So we arrived at Churchers @ 7. Dawn drove my parents and me down and in the middle of the car ride, we realized that the hand bouquet wasn't with us. I knew something was clearly missing when we left the house... Good thing Marcus, Chermaine and Zili were still home so they managed to bring it to the venue.

Everything was so perfect. The setting. The music. The people.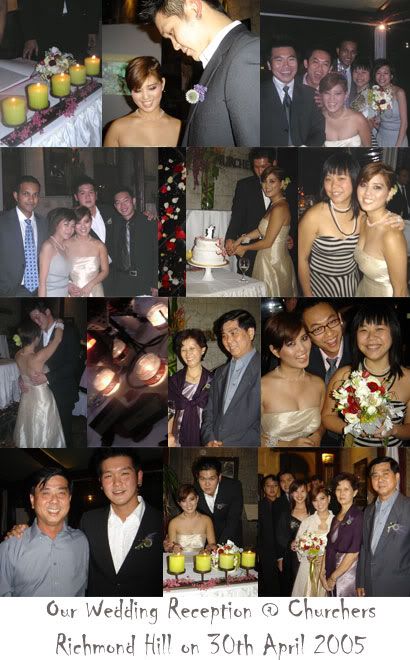 Dad walked me in and we had the celebrant there to perform our ceremony. Darien was so nervous that his hands were wet and his face had this weird look. Haha. We had an "Irish Blessing" read by both Chermaine and James. Its was so beautiful. The pinnacle of it all is when we exchanged personalized vows. Darien said the sweetest words. Although I'm pretty sure that he must have done enough research online cos some of the words used were rather deep. hmmm... Right after, We exchanged rings. Then, we had to sign the deed of promise.... Then everyone was invited to come and congratulate us. We got so much love that night. It was amazing.
The Moroccan Lamps were so beautiful as centrepieces, adorned by the complimenting tealight holders. And we had the best florist in the world. Sebastian, from Flowers Vasette. He managed to arrange our flowers so amazingly and still well within our budget. We ended up with the tropical look.
The entire night was just so ideal. Darien gave a thank you cum welcome speech to everyone. And we started our meals. Food was so so. But the company was great. We went around to chat with all the guests and had a chance to get to know my workmates' partners better.
Bruce gave our first toast, reminding everyone about our shoe throwing fights and our "joyous" noises. And Niraj has this wedding tradition where we have to kiss everytime someone rings the bell... And Yen proposed a YUM SENG to us. To which, Chris, Kinkini's American boyfriend, was rather amused.
Niraj baked our cake and we had "SuperModel" figurines on the cake. The cake was superbly fudgey. Absolutely like a BIG brownie. It was yummylicious. We ended up giving some to the restaurant staff cos they were eyeing it from the time it entered the door.
So the night ended with a dance. A first dance with my husband. It was so personal and private. A couple of sweet words were exchanged. We had a ball. Everyone joined us after that and we had the best of time just slow dancing. A couple of them exchanged partners as the music played and we were going on and mucked around. Bruce had an excellent taste in music!
Next up was the bouquet tossing and Darien had a ball just teasing them. I tried my hardest to be fair but in the end... Dawn caught it! haha.... funnie.... She's going to chapel and she's gonna get married! SOON!!!
We cleared the reception area that night and headed off to Public Bar for drinks and by then we were so knackered. Dad bought everyone a round of drinks and he had a ball of a time just chatting with my friends. By the end of the night, I think he had enough glasses of wine for a good night's rest...
Darien drove him back to the hotel and then headed home to wait for me. We had to drag Dawn back home cos she was quite hammered before we went back home. For a little bit of cuddles and a good night's rest.